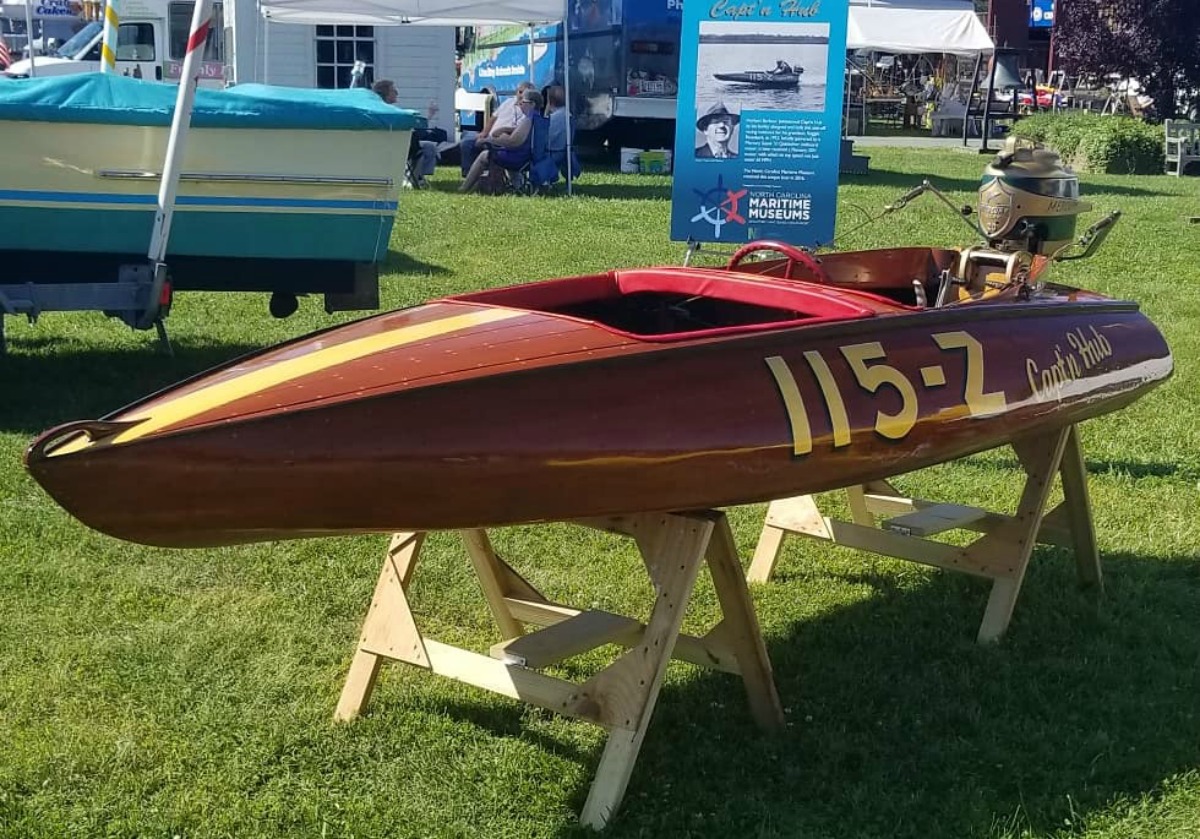 04 Sep

Capt'n Hub Wins Again!

Grant Caraway, manager of the Harvey W, Smith Watercraft Center attended the 31st annual Antique and Classic boat festival on June 15-17 2018. The show was hosted by the Chesapeake chapter of the Antique and Classic Boat Society. The show takes place on the beautiful campus of the Chesapeake Bay Maritime Museum in St. Michaels. This is a top-rated antique boat show that has over 60 exhibitors and nearly 100 boats including several in-water boats, drawing participants from 9 different states. The weekend consisted of seminars and educational outreach promoting classic boat history and industry.

Grant entered a 1952 Barbour racer which is part of the collection here at the North Carolina Maritime Museum in Beaufort. The boat was built by the owner of Barbour Boats in New Bern NC for his grandson to race in the ACBS circuit of the 1950s. The racer was powered by a Mercury Super 20hp that pushed the small boat along at nearly 60 mph. The Spanish Cedar built hull with brilliant Gold-leaf was restored by the staff and volunteers of the Harvey W. Smith Watercraft Center in 2016. The boat has won awards at previous boat shows in the region and did not disappoint in St. Michaels.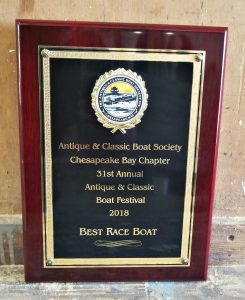 Among stiff competition the Capt'n Hub Barbour was awarded 2018 Best Race Boat of the show. This great little boat will continue to be showed on behalf of the North Carolina Maritime Museums and honoring a unique part of North Carolina's boat building history.
Interested in learning the art of boat building? Click here, to learn about the courses at the Harvey W. Smith Watercraft Center.
For more information on how you can volunteer at the Harvey W. Smith Watercraft Center, contact Grant Caraway at 252-504-7790 or email at grant.caraway@ncdcr.gov.
North Carolina Maritime Museum is located at 315 Front Street, Beaufort, NC 28516. Call for more information at 252-504-7740. Visit www.ncmaritimemuseumbeaufort.com.