10 Feb

Keeping busy in the shop

It's been way too long since I last wrote about what is happening in the Watercraft Center. So I thought I'd update what's been happening.
2020 Raffle Boat
We've completed and installed our new 2020 raffle boat, and tickets are on sale for $5 at the museum gift shop.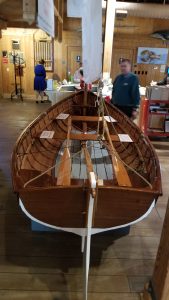 The new boat is a traditionally built dinghy called a "Catspaw," and the plans are available from Wooden Boat Magazine. The 13-foot rowing/sailboat was originally drawn and built by Nat Herreshoff and updated by Joel White. We built the boat in the traditional style using white oak for the backbone and steam-bent frames, Atlantic white cedar (aka Juniper} for the lapstrake planking and mahogany for the sheer plank, transom and seats and thwarts. The boat also comes with a beautiful set of handmade fir oars. The mast and sprit are also fir. This is a sweet boat that would be perfect for rowing or sailing and could also be fitted with a small outboard.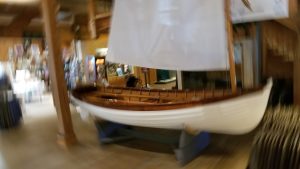 2019 Raffle Boat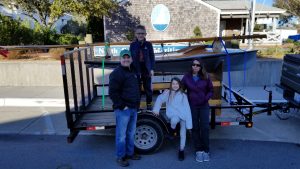 Last year's raffle boat, a traditional moth, was won by Justin W. and his family and was picked up and taken to their home in Raleigh last weekend.
Beaufort Oars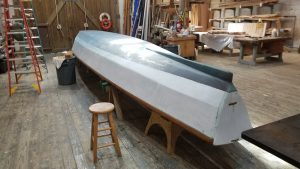 Currently in the shop, we have two big projects underway: We are repairing and re-fiberglassing the bottom of one of the gigs that is rowed by the Beaufort Oars. This gi,g which was built here in the Watercraft Center in 1991, had sprung a couple of small leaks. So we thought we'd scrape and sand all the bottom paint off and re-glass the bottom. Some of the Oars have been helping out with this project, which makes a big difference.
In addition to the gig repair, we are working on developing a new set of oars for the group to use. Last year we made some lovely 12-foot fir oars for the group to use. Unfortunately, they are a little heavier than the carbon fiber oars they have been using in the past. So we are developing a new hollow wooden oar that should be closer in weight to the carbon oars but still have that classic wooden oar look. We'll let you know how that works out.
Junior Sailing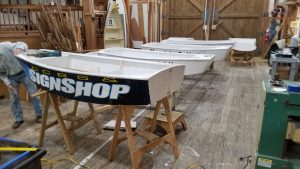 It's also that time of year where we rehab the Friends of the Maritime Museum's fleet of optimist dinghies that they use in their summer Junior Sailing Program (registration opens Feb. 14!). As some of you may know, all the boats were built here in the shop over the years; and every winter we bring them back in for repairs and fresh paint. Last year we replaced two of the oldest, most damaged boats with new ones built here in-shop again. We are doing the same thing again this year and will be starting construction on the two new boats hopefully by next week.​
Upcoming classes
We have a few exciting new classes coming up too: On Feb 12th we will have the Tiller School's 3rd-grade class in the shop to build 37 stitch and glue spritsail skiff models. And in late May, the Durham Academy's 10th-grade class will be here to build two of their own optimist dinghies over four days.
In addition, we have a half-lift model class coming up in March, as well as our monthly Introduction To Wooden Boat Building class. As always we offer all our classes "on-demand," so if you're interested in building a boat or learning more about it don't hesitate to give me a call or check out our class schedules. We also are always looking for more volunteer help here in the shop. So if you're interested in coming in and getting your hands dirty, stop by or give me a call.
And finally, I encourage everyone to just stop in and check out the action. We're open 7 days a week, 8 a.m. to 5 p.m., so come on down and check it out.
Thanks and see you soon!
— Timo White